Mission
The Chatham Area Public Library District Friends Foundation was established to enlist public, business and governmental interest in and support for the Chatham Area Public Library District, raise and expend funds, to encourage gifts to be set aside in a fund for investment and to establish a fund to permit contributors to make tax deductible gifts for current investment and future use by the Foundation for the welfare of the library.
Foundation Board
The Friends Foundation Board is made up of members from the Library Board of Trustees, Friends of the Library Board and community-at-large members.  Ex-Officios of the Foundation are the President of the Board of Trustees, Chair of the Friends of the Library Board and the Library Director.
Their next scheduled meeting will be held on April 16th  at 6:30 p.m. 
Gifts to the Friends Foundation
The Chatham Area Public Library Friends Foundation is committed to raising private funds to create a truly extraordinary library for our community. Your support can help create a library that excels at:
Providing a welcoming space for lifelong learners
Making information and opportunity available to all
Bringing the whole community together
Choose how your gift is designated
Unrestricted Fund
Vickie Armstrong Children's Department Fund
Memorial and honorary gifts
Honor or remember someone with your gift. A donation to the library is a meaningful way to remember the achievement, birthday, anniversary, or life of a friend or loved one. Every gift is acknowledged with a letter to the donor. Upon request, we will also notify the person being honored or the family of the person being remembered. Make a gift today!
For questions related to the Friends Foundation, please contact us. 
Chatham Landmarks Ornaments
Support the Friends Foundation and adorn your Christmas tree with Chatham landmarks.  Ornaments are $20 each and include the Caldwell Mansion, Railroad Depot, Chatham Area Public Library and the Sugar Creek Covered Bridge.  Ornaments are available anytime.  Please contact the Library at 217-483-2713 for more information.
Giving Tree
The Library Foundation Board invites you to support our Library by purchasing an item for our Giving Tree. The Tree is prominently displayed near the circulation desk and it serves as a permanent record of those who made generous gifts to the Chatham Area Public Library.
Adding an item to our Giving Tree is an ideal way to honor your family, memorialize a loved one, celebrate a milestone or pay tribute to a business or organization. Each leaf, birdhouse, fence, branch or part of the tree trunk will be engraved with your personal message. All donations will benefit the Chatham Library Foundation and our efforts to continue to expand and improve our offerings to the community.
| | |
| --- | --- |
| Leaf | $100-499 |
| Birdhouse | $500—999 |
| Fence | $1,000—4,999 |
| Branch | $5,000—9,999 |
| Trunk | $10,000 -  & up |
Help Make the Backyard at the Library a reality!
Calling all bookworms, dreamers, and community champions! 
We have an exciting announcement to make that will bring joy, imagination, and unforgettable experiences to our beloved community. Introducing... The Backyard at the Library! 
Imagine a whimsical outdoor space where families gather for picnics, where the pages of beloved stories come alive under the starry sky, and where children explore their imagination. This enchanting oasis is within our reach, but we need YOUR help to make it a reality! 
Click the link below to make a difference and support The Backyard at the Library! Together, let's write a new chapter of joy, connection, and wonder for our community. Thank you for your support!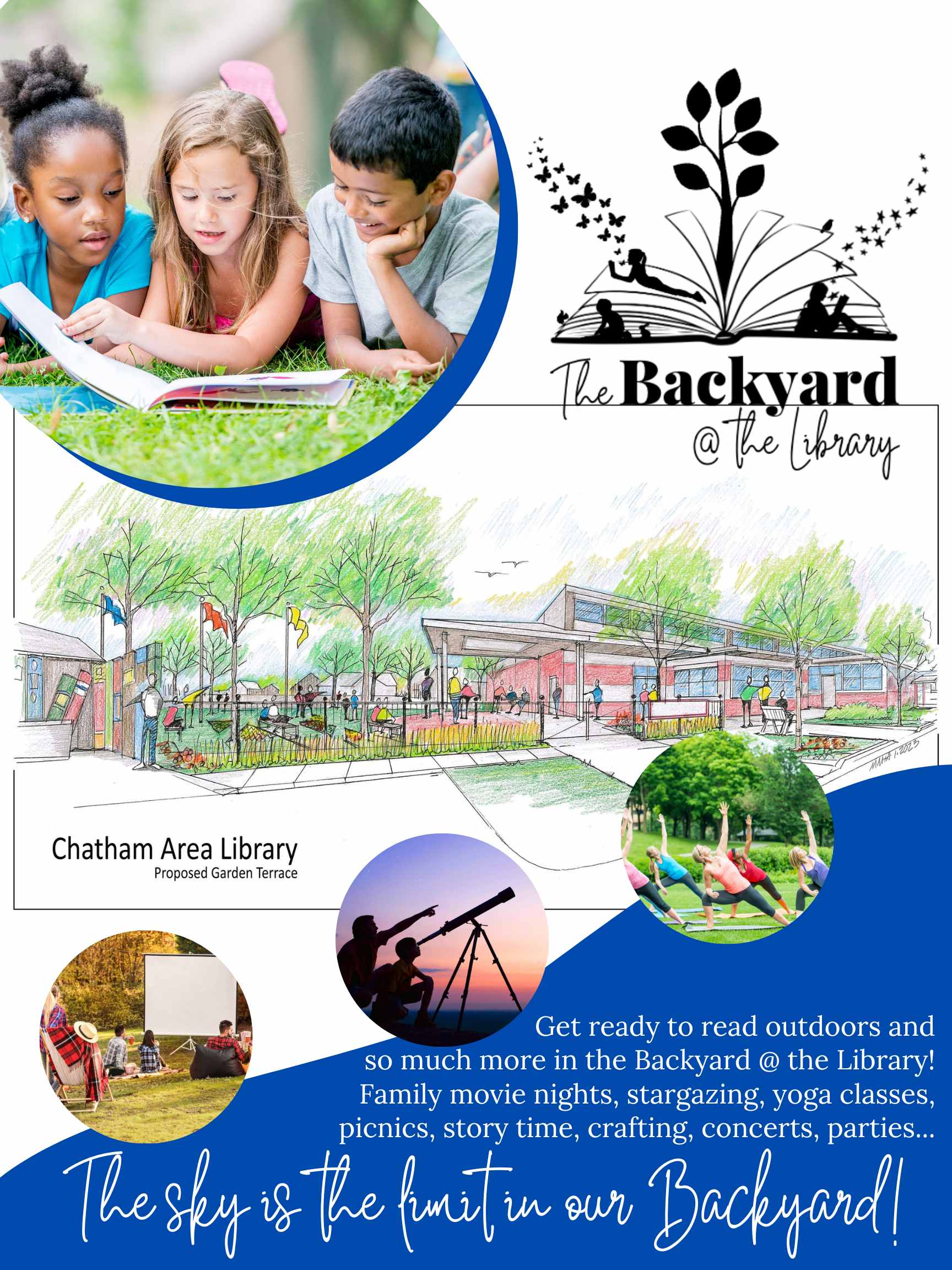 Donate Now and Support our Library!